Capital Cafe 華星冰室, Wanchai
Breakfast in Hong Kong is always worth waking up for. No matter you prefer local food such as noodles, congee, dim sum, or sandwiches and egg dishes, or even a cup of coffee with a croissant, there's always something for you. I am a huge fan of Hongkongnese scrambled eggs. I believe most people have heard about the Australian Diary Company in Jordan, a local cafe famous for its scrambled eggs and toasts. While a long queue is hard to avoid all-year-round, and you have to bear the rude servers. For me, Capital Cafe is my first choice for scrambled eggs with toasts in Hong Kong.
Address: (3 branches)
Wan Chai Branch(灣仔): Shop B1, G/F, Kwong Sang Hong Bldg, 6 Heard St [*Personal Recommend]
Mong Kok(旺角): 107 Sai Yeung Choi St S
Shau Kei Wan (筲箕灣): G/F, Shun King Bldg, 185-187 Shau Kei Wan Main St E (at Factory St),
Hours: Mon–Sun 7:00 AM–11:00 PM
Cost: under HKD $100 per person
Capital Cafe was opened in 2010 by a famous local record company Capital Artists, a lot of trendy stars such as Leslie Cheung Kwok-wing (張國榮), Eason Chan (陳奕迅), Sammi Cheng (鄭秀文), Miriam Yeung (楊千嬅) are under this company. They are also regulars at Capital Cafe, so i you are lucky enough, you may intestinally meet a superstar :D
I highly recommend the black truffle scrambled eggs. By using Hokkaido Milk 3.6 to scrambled the eggs, with black truffle on the top to add more aroma and flavours, the eggs are indeed buttery, creamy and delicious. I am not going to judge the black truffle here, with a dish only cost $5 USD, what else should i complain about it? The toast was soft and fluffy, such a mouthful of bless.
Best friend of a local breakfast - Hong Kong style milk tea. Pure flavours of black tea and hokkaido milk. You can choose either hot (front) or iced (back), personally prefer hot which is less sweet.
Although the pork chop bun comes with a dry-looking baguette, the entire bun was worth the fame. The pork chop in the center was unexpectedly succulent, sandwiched by baguette with a lovely crust and soft inside, it was quite delicious.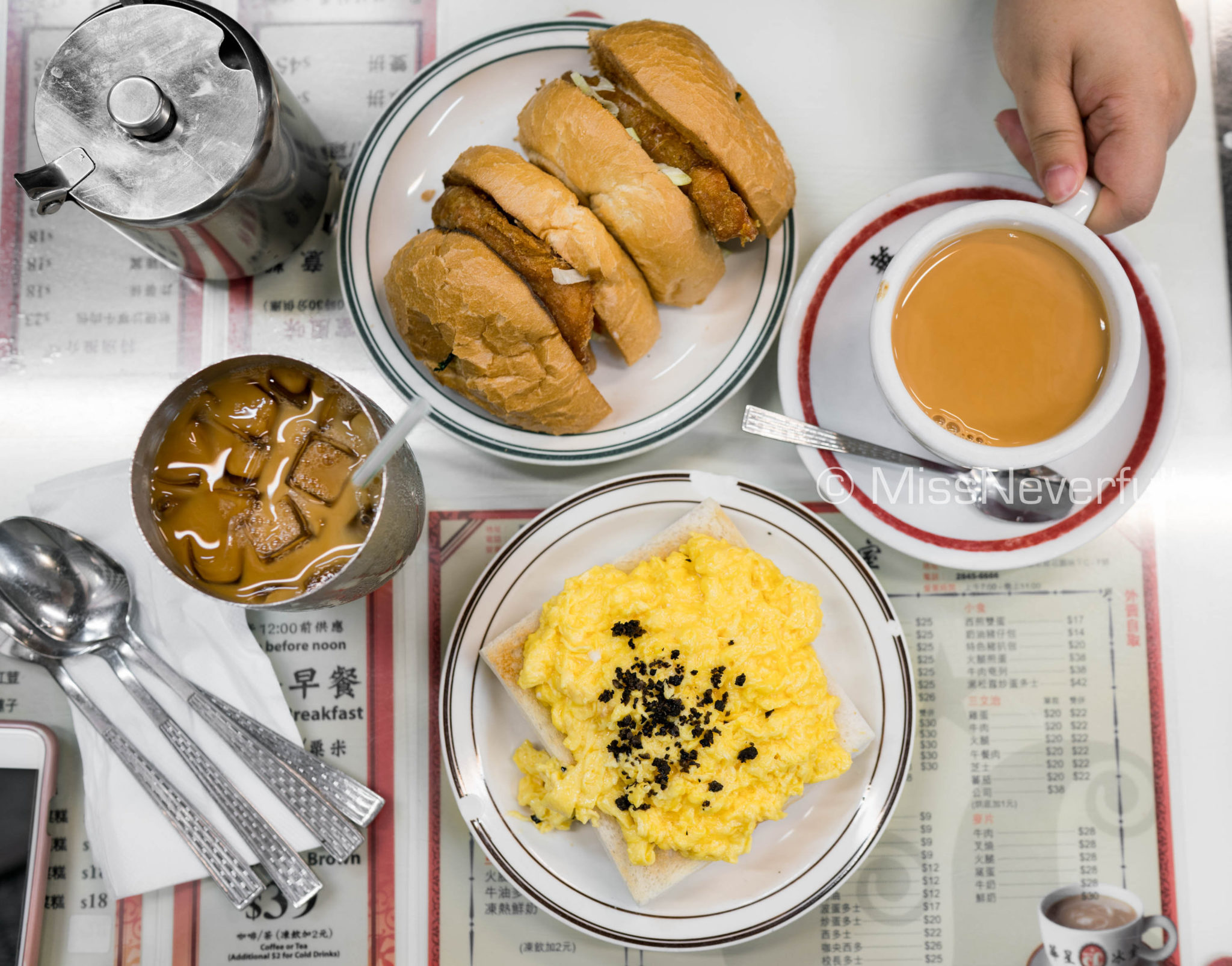 We arrived on a weekday morning at breakfast time and there was no queue at all. The staffs were patient and friendly compare to most other cosy local eateries in Hong Kong. Compare to the hour-long waiting at Australian Diary Company and rude staffs, i had a better impression of Capital Cafe in Wanchai. The food was no doubt satisfying for its value, i personally prefer the eggs and toast from Capital Cafe rather than ADC. We spent only $105 HKD (around USD$15) for these. If you are not rushing, grab a cup of coffee from the hottest cafe Omotesando Koffee to help you digest, it is just within 5 minutes walk from Capital Cafe!